Raspberry Update
Please note: Out of consideration for other pickers, NO DOGS ARE ALLOWED IN THE RASPBERRY FIELDS.


Open Wednesday, October 26th, 9am- Dusk
Crispy fall weather! Pretty berries for patient pickers! Pick today (could be the last Wednesday of our season!) and get an extra punch on your punchcard. Pumpkins, corn stalks, and straw bales for sale, Check out our end-of- season SALE on houseplants(50% off) mums, and more, Local honey and cinnamon creamed honey available and a selection of delicious Ohio maple products. We are also having a SALE on "BloomPad" bulb packages to plant in your yard or in pots. Plant in fall for lovely spring tulips, daffodils, and more. See you at the Farm!
* We stay open until dusk on weekdays or until 3 p.m. on Saturday and Sunday unless customers pick the available ripe berries before then or unless weather conditions prohibit picking. The Rosby Berry Farm posts changes as they occur, so please visit this website again or call 216-661-6102 x2 just before leaving home.
Rosby Berry Farm... your "Farm in the City."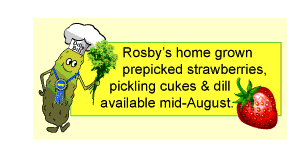 Start your raspberry picking adventure at the Rosby Garden Center, 42 E. Schaaf Road.
HOURS VARY
Always check online or by phone just before coming to pick. We may close for a day or part of a day if there are no more ripe berries available to pick or during adverse weather conditions. Otherwise we are open:
Monday - Friday:
9 AM - Dusk
Saturday & Sunday:
9 AM - 3 PM
The raspberry picking season runs until Halloween.
U-PICK PRICING
$4.35
Pint
$7.35
Quart
Save 10% on 3 or more quarts!
No charge for baskets. FREE recipes!
PRE-PICKED PRICING
$3.25
&frac12 Pint Clamshell
We accept phone orders.
Call 216-661-6102 x2 for availability.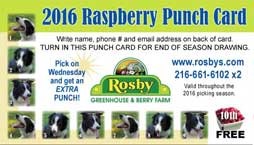 Get your 2016 Raspberry "Punch Card" at the Berry Tent.
Pick 9 quarts and pick the 10th quart
FREE!
BONUS ON WEDNESDAYS!
Get an extra punch on your card!
Turn in your completed punch card for a chance to win in our end-of-season Halloween Bonus Drawing!